Feb 22- Check out this cool deviation I found!
Feb 21- The chain finally arrived in the mail! So now all I have left to find is the purple spandexy outfit to complete the costume.
Feb 18- The Megacon Rocked! Unfortunately my chain had 5 days to make it to me in the mail and the USPS didn't seem to get it 1,000 miles in 5 days. I'm really mad at them right now, but there is nothing that I can do. So I wore my deviantART T-shirt instead.
Once the chain gets here I will go out and find the purple part of the outfit and then I will be making some stocks.
I'd love the thank *
lindowyn-stock
for making a donation towards the costume! She will also be receiving some of my Lilly purchasable stocks
Feb 12- The woman that I had hand make the chain is now offering this to me for 50 dollars. It would retail at over 100 dollars. But right now I don't have the funds to buy it because all of my money is going into adding onto my house. Yes. I'm begging. This is SO pretty!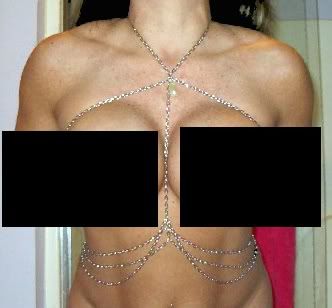 Feb 05- Today in the mail I got my wig and gloves. I have no clue how to wear or take care of the wig since it's my first haha.
Here are some snaps that I took in a hurry. There will be much better photos later. I say later because right now I'm suffering from a sore throat and a migraine, and my in-laws will be here tomorrow night, so I doubt I will be doing much in the way of stock photography for two weeks.
It was supposed to be auburn, but it's more brown with blond highlights. Oh well, for the price and the length, it is nice enough!
If you donate you will get to have exclusive stock packs made with the stock from the costume. (the ones not released to the public) you will also be able to choose some of my other purchasable stocks! Thank you for any help! I really need it right now because I am trying to put an addition on my house, and if any of you know construction you know how much that costs! Everything!
So what is this costume? I'm planning on going to the Orlando MegaCon in February as Marvel's Inhuman "Medusa" from the Fantastic Four.

I won this one!
If you find some more good photos of Medusa, send them my way!!
If you donate $10.00 or more you will have rights to my purchase only stock packs (your choice of one pack- and I will be making purchase only Medusa packs if everything works out) PLUS I will list you in my journal as having helped me purchase this. (Unless otherwise specified) Thank you!!!